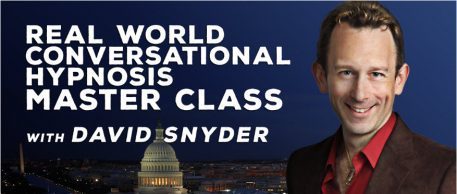 CPI : 6-Day Super Hypnotic Persuasion Intensive – Australia
Recognized as one of the world's leading experts on Hypnosis, NLP, Mind/Body technologies for peak performance, persuasion, and covert influence.
A Licensed and Certified Hypnosis Trainer, Master Practitioner and Trainer In Neuro Linguistic Programming and the Society of Experiential Trance; David tirelessly works to develop training and educational opportunities designed to powerfully raise the skill level and professional status of hypnotists all over the world.
He is the founder and creator of the CPI: Conversational Persuasion & Influence System™. In addition to his many credentials in the field of hypnosis and NLP, David holds a Master of Arts Degree in Acupuncture and Oriental Medicine from Southern California University of Health Sciences where he pioneered the use of hypnotic technique in combination with acupuncture therapy and also holds 9th Degree Black Belt In The Martial Arts.
David's passion for NLP, hypnosis, and the belief that hypnosis is a LIFE SKILL has led him to pioneer new and innovative ways of teaching and training aspiring hypnotists to become more confident, competent, and effective, in every aspect of their lives.
Discover what you will learn:
The 6 Stages Of Persuasion That You Can Use In ANY Context
How To Control Your Emotional State, ON DEMAND
The Critical Path To Influence In Every Situation
How To Instantly And Automatically Sync/Link Your Mind And Body With Another Human Being
How To Generate Irresistible Levels Of Rapport Whenever You Want
How To Use The 7 Unstoppable Language Patterns
How To Tap In To Someone's Nervous System To Get Them To Be In The State To Do What You Want
How To Master Embedded Commands
How To Bind The Thoughts And Ideas Of People So They Choose Exactly What You Want
How To CRUSH Interviews For Work
How To Talk In Such A Way Where People Automatically Believe What You Say
How To Focus A Person's Attention So They Do Exactly What You Want
How To Create Massive Absorption And Pleasure Just By Talking To Someone