Who Else Wants To Learn The "Top Secret" Methods of Covert Hypnosis and Behavioral Influence Used By The Worlds "Elite" Undercover Intelligence Agents, Interrogators, Seduction Masters, Mind Control Experts and More?
"Check All That Apply To You"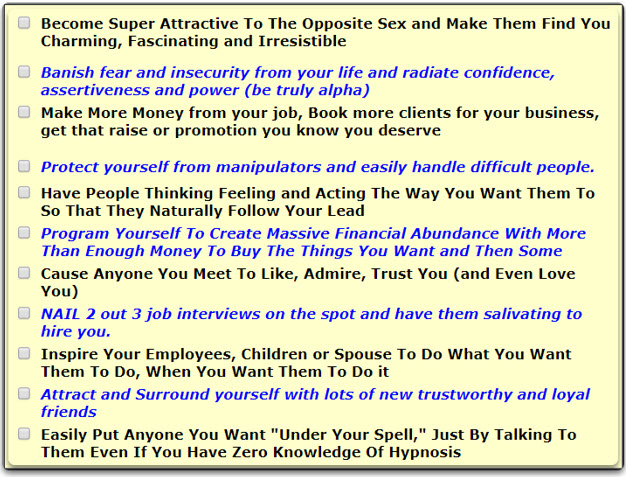 Introducing
"UNLIMITED INFLUENCE"
"Tradecraft" & Strategic Human Influence Training
4-Day Certification Boot Camp
With Chase Hughes, and Dr. David Snyder
Before You Register Watch The Video Below To Discover EXACTLY
What You Will Be Learning At This "One-Time-Only"
Special Behavioral Influence Training Event
PLEASE NOTE! 
This EVENT WILL SELL OUT FAST!
Super Early Bird Discount Now In Effect!
$4797.00 Value!
Now Only $1997.00
Save $2800.00!
WARNING: This Offer Closes in

CLOSED
Let Me Ask You This...
What Could You Accomplish If You Had The Power To
Instantly Influence and Persuade Anyone You Wanted
To Do Anything You Wanted, Anytime You Wanted... 

What do you get when two of the worlds leading experts on influencing human behavior get together, join forces to compare notes and share strategies? To combine their knowledge and deliver a one-time only seminar that allows you to wield maximum influence in minimum time.
You get one of the most powerful, effective, fun, cutting-edge real world applicable influence training events of the century.
On September 23-26, 2021 In Orlando Florida Two of the Worlds Leading Experts on Behavioral Influence and Strategically Reprogramming the Subconscious Mind - Chase Hughes and Dr. David Snyder DACM will be pulling back the curtain on these systems and methods, revealing some of the most closely guarded secrets of human influence ever discovered - Most of these secrets have NEVER been released to the public before.
Real world human influence and behavioral profiling secrets known only to the worlds most elite covert operatives - spies, interrogators, CIA recruiters and more.
WARNING!
This information IS Powerful and
NOT For the Faint of Heart!
If you are someone who is uncomfortable exerting influence or believe that having the skills to not only influence and persuade others but to defend yourself from the many "persuasion predators" of the world is somehow wrong, or unethical... This is probably not the training for you.
However, if you are tired of producing the same old results over and over again, if you would truly like to become on of the most powerful influencers you can be and learn the "tradecraft" secrets only the spies, spooks and operatives know
The methods and techniques you'll learn at this 4-day Strategic Human Influence Certification Boot Camp ARE The REAL THING!
If you are finally ready to become an "apex influencer" the kind of person who can get people to believe what you say, do what you want and to like love and trust you practically any time anywhere and for any reason...
...This could be the most important letter you ever read.
Having the ability to read people, understand and influence human behavior is perhaps the single most important success skill there is. To put it simply if a person lacks the ability to get others to like, trust, believe or simply do what you want, you are by definition.
...doomed to failure in life. But those few gifted individuals who own the power to influence, who can easily
Get people to like, love and trust them

Win People To Their Way of Thinking

Emotionally Others Into Doing What You Want Them To Do.

These are the people who move through the world easily getting everything they want while the rest of us struggle.
This Course Is For You IF You Are Finally Ready...
To Stop Hearing No

To Stop Being Rejected

To Stop Being Denied The Things You Want In Life

If You Are Truly Ready To...

Understand People

Read Anyone You Want Instantly

Influence People To Do What You Want, When Ever You Want

To Detect Lies, Deception, Aggression, Attraction and More
Here's What You Will Be Learning...
---
There has never been, nor likely ever will be an amazing two for one Unlimited Influence Event Like This.
Don't miss your chance to learn directly from two of the most influential and cutting-edge experts in the field of behavioral influence and covert conversational hypnosis.  This is a four day event you will never forget. You will do the drills and get the skills that nobody else has, that allows you to easily and rapidly get the results nobody else can.
CLOSED
Talk To You Soon.
Sincerely,
Your Friends
Dr. David Snyder
And Chase Hughes
PS:  Please Note, We can only keep the tuition this low for a short time. Be sure to grab your seat now before they are all gone and you get one of those few remaining super surprise mystery bonuses worth 1950.00!